Provide individualized coverage and white-glove service with ICHRA+®.
Ditch your traditional group health benefits once and for all and revolutionize the way you provide health benefits.
Think beyond your traditional group plan! Remodel Health walks you through all your options when it comes to choosing health benefits for your organization. Remodel Health's team of licensed consultants, benefits advisors and customer success representatives assist your organization and your employees every step of the way.
High-Quality Plans for Less.
Remodel Health puts you in control of your health benefits by helping you choose a healthcare solution that meets the needs of your organization and your employees.
Expertise Powered by Technology
Review your current benefits
Utilizing our software, our consultants will do a complete analysis of the plan design and details for the health benefits you're currently providing, if you are offering any.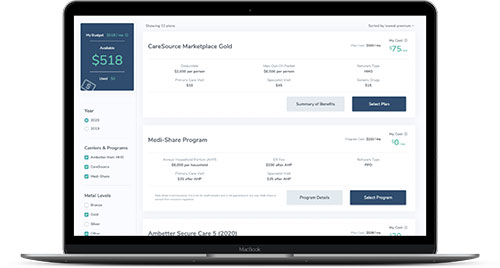 From employer costs to individual employee costs and potential tax credits, our software helps us review what you're currently spending and see if savings are possible.
From HSAs to HRAs, we'll examine any extra contributions you are currently making for your team and how you may be able to add to your offering.
Compare all your options.
Once we've run a thorough analysis of your coverages, costs and contributions using our software, we'll compare your options and help you select benefits that suit your organization's needs.
Healthcare News and Resources
Our team of healthcare experts and innovators are dedicated to generating meaningful resources covering the latest industry trends and news — from blogs to webinars, Ebooks and more.
Is Remodel Health Right for You?