The American shopper is second to none! It's largely because of our keen ability to ask this question: what is the best? Whether we're shopping online for a new pair of workout shoes, or we're searching for a new restaurant to try out, we want to make sure we get the best for what we spend. This approach can also work when asking, "what is the best health insurance for my small business?" However, many small business owners avoid shopping around for the best benefits out of fear of making the wrong decisions.
As employers, we want to give the best we can to our teams. It's in the fabric of the American workforce to expect "salary plus benefits" in every job negotiation. But all too often, we arrive at those conversations with a preconceived notion of what the best is when it comes to small business health insurance.
But what is small business health insurance?
Small business health insurance is a fully insured major medical insurance product for organizations with under 50 employees purchased at the group level by the employer. This benefit is then offered to employees to join either for free or by paying some of the costs themselves.
While this traditional style of health benefits has been around for decades, it's not necessarily the best option for all teams. Even if you think you are offering the best, you might not be!
After all, you don't want to be wasting your money and over-spend on something that isn't the best use of your dollars, right? Of course not! That's bad business.
With that said, here are the best small business health insurance plans you can implement at your organization:
1. Offer anything at all!
The latest report from the U.S. Department of Health & Human Services says that only 31% of employers who have less than 50 full-time employees offer small business health insurance.
That may seem surprising since so often health benefits are one of the first things that recruits ask about when you're hiring. Furthermore, 56% of all employees will choose to leave or stay based on the small business health insurance that's provided.
It goes without saying, then, that offering good health benefits automatically gives you a huge competitive edge compared to many other small businesses when it comes to hiring and retaining top talent.
Offering health benefits to your small business—even if it's just a small contribution at first—could very well be the hidden pearl you've been looking for. It's time to open it up and see what we can do with what we have. Let's make a difference!
2. Offer a better delivery system.
It's easy to get stuck in our ways, even if we know they're not the best or most effective. The same old delivery system of the past can make it hard to grasp something new right in front of us. Let's take a look at an example of this from back in the 1980s.
Pension plans were all the rage in the 70s. You would pick your place of employment based on the pension. But over time, employers all over the U.S. were struggling with the unsustainable nature of the pension delivery system of retirement benefits.
Then enters the 401(k).
Employers could finally fix their budgets. Employees could finally make their own decisions. The employer gives the money, and the employee picks how to spend it. It was the epitome of a win, win.
As painful as those years preceding the big change were, 40 years later, the majority of employees are now very grateful for the better benefits and a better delivery system. The principles here don't just apply to retirement, though…
This is exactly what is happening with small business health insurance now! But instead of it being 401(k) retirement plans, it is a model called managed individual that delivers health plans.
When we look at the landscape of the way things have been with traditional small business health insurance, we will quickly see that costs have gone up 368% over the past 20 years. It's getting worse fast! This is identical to the issues that pension plans ran into a couple of decades earlier. The costs went up and up and up and employers just couldn't compete anymore, which meant that they would consistently lose the best employees—even employees they'd had a long time—because the money just wasn't there anymore.
The wave is already happening, too. This managed individual delivery of small business health insurance has been around since about 2015. But lately, with 98% of employers now planning to do something different with their benefits plan, now is the time to start rethinking everything you thought you knew about healthcare. Almost 1 million employers are projected to not only make a change but move to this very delivery style of managed individual small business health insurance over the next 3 to 5 years.
This is the future of delivering better benefits to your team.
3. Offer better small business health insurance coverage.
Offering good small business health benefits goes beyond just getting your people onto a health plan. Sure, you should start doing something if you're currently not. And if you're already doing those old pension-style health plans, switching over to a managed individual strategy of small business health insurance will help as well.
However, it cannot stop there!
What if I told you that the managed individual plans were cheaper? Since you're likely still super jaded from two decades of renewal increases, I wouldn't blame you for not believing in me. But you'd still be wrong.
The reality is that your money goes further on individual plans than they do on traditional group small business health insurance. This opens the door to bigger savings and better benefits.
We have to look at this as more than just the healthcare coverage itself. At the end of the day, what matters equally as much as the insurance card is the actual cash card to pay for the bills when they inevitably arrive. This is where the rubber meets the road, because…
If you've been following our content for any amount of time, you know how important this statistic is to us and how passionate we are to change it. When you aggregate all of the national data that we have, a staggering piece of data like this means that people with insurance are still having to file bankruptcy because of their medical bills. Simply offering small business health insurance is not enough to be considered the best. You need to do more. Thankfully, you can!
Medical dollars provided by the employer to the employees is the difference-maker. There are a few delivery systems that can work well. The most popular include health savings accounts (HSAs) as well as health reimbursement arrangements (HRAs). If you'd like to learn more, we have tons of resources and consulting available to help you get every detail you need!
Remember when I mentioned above that 56% of individuals will choose a job—to start or stay—based on the small business health insurance that you are offering? How satisfying and competitive do you think it would be if you were able to not only help them get on good coverage but also help with their medical costs, too? This is something that people need.
A better benefit = a better employee = a better company.
Are you ready to start offering the best small business health insurance?
This is probably a lot to take on in a short amount of time. But thankfully, that's what Remodel Health is for. We've been doing this for nearly a decade! We're here to help you with your best next step!
Our exclusive Health Benefits Analysis® (HBA) will provide you with a 360° view of your entire organization. The HBA includes what your employees want and need, how much this would cost you, the strategies for actually making a better benefit, and the process of starting for the first time!
It's never been cheaper or easier to stop making blind decisions that are costing you money!
Start today with your very own risk-free HBA! Prices begin at just $35 per employee.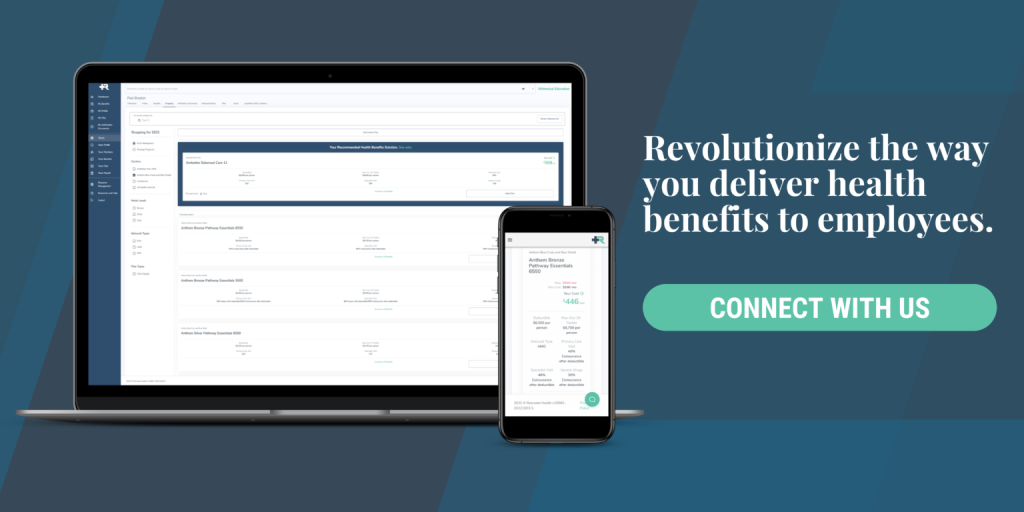 Important Notice: Remodel Health does not intend to provide specific insurance, legal, or tax advice. Remodel Health always recommends consulting with your own professional representation to properly evaluate the information presented and its appropriate application to your particular situation.